Children's Entertainer Sparky Marky
When it comes to entertaining children and families, Sparky Marky is one of the leading children's and family entertainers in the UK. His dynamic energetic comedy magic shows are ideal for any kind of function from kid's birthday parties to large corporate events.
Sparky Marky's fast witty slapstick hilarious shows mixed up with mind boggling comedy magic props make him an instant hit with children and adults of all ages. Many clients from mums and dads booking Sparky Marky for their child's birthday party, schools, holiday parks and theatres requiring him to entertain 100's of children re-book year after year.
Whatever the occasion that requires quality entertainment, a professional service and advice, you know who to call!
Creating magical memories for over 25 years.
Children's Party Entertainer
Sparky Marky is available seven days a week and can provide quality entertainment for all kinds of events and celebrations. Including Children's Birthday Parties and Holiday Park Entertainment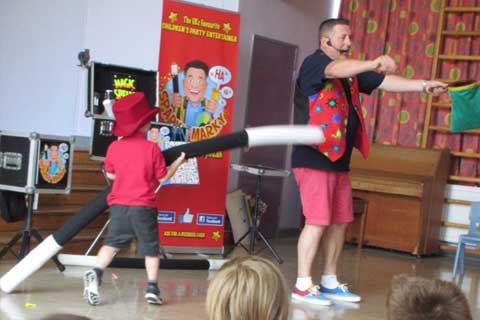 School & Pre-School Entertainer
From Pre-Schools to Y6 leavers proms Sparky Marky will always deliver the right kind of entertainment for your School. Over 100 schools in Yorkshire and Derbyshire regularly use Sparky Marky.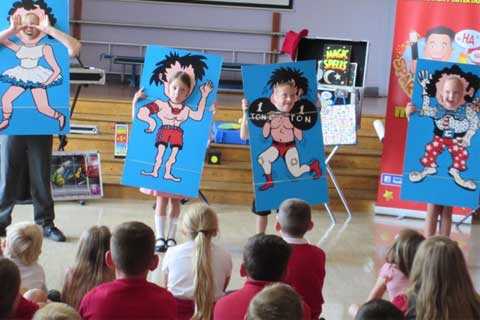 Themed Children's Shows
Whatever the theme of your event Sparky Marky can adapt his shows to suit your requirements, ensuring the show ties in with the theme of the event help make your special event is one to remember.
---
Claire Rodgers.
"Just a note to say a big thank you for the wonderful party you did for Maisie & Friends on Tuesday. She enjoyed every minute of it and you really were the talk of the playground the following day. The parents all said they had a great time as well & many asked for your details. Once again many thanks for such a fantastic show."
Jo, Rich & Oliver
"Hi just wanted to say thanks for entertaining the children so brilliantly at Oliver's birthday party yesterday. How you managed to keep 40 children's attention focused for 2hrs is beyond me, absolute quality show & service thank you."
The Stage Magazine
"This show is so polished you can see your face in it."
Julie Magness
"Just wanted to say WOW! You held an incredible party today and all the kids loved it. I can't thank you enough for making mai's party so special We shall certainly be using you again."
---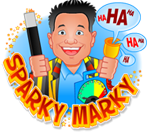 Please visit our Facebook page to see latest updates and read reviews from Sparky Marky's Children's Entertainer customers.
Children's Entertainer Sheffield - Children's Entertainer Rotherham - Children's Entertainer Barnsley - Children's Entertainer Doncaster - Children's Entertainer Wakefield - Children's Entertainer Leeds - Children's Entertainer Chesterfield - Children's Entertainer Worksop - Children's Entertainer Yorkshire - Children's Entertainer Derbyshire