Birthday Parties with Sparky Marky
For children's birthday parties you want entertainment that's colourful, reliable and of course extremely funny.
Children love comedy where crazy things happen and everyone including the grown ups enjoy the fun.
Your child's birthday party is a very special day so you'll want to be reassured that you have made the right choice when choosing an entertainer. Booking the Sparky Marky Magical Laughter Show is your guarantee for piece of mind that your child's special day will be even more special, magical and memorable one for all the right reasons and be the talk of the playground long after the birthday party has finished.
I cater for all age groups from toddlers to teenagers and it's non-stop fun and laughter for everyone to enjoy including the adults! I tailor my party packages to suit the requirements of the age group I'm entertaining. All my birthday shows feature the same props & routines I perform at large holiday parks and theatres and the birthday child will always be the STAR of the show and be made to feel very special. They will receive a magic personalised birthday card and a very special balloon gift.
There's no limit on guests, invite as many as you like!
Joint birthday parties are also very welcome.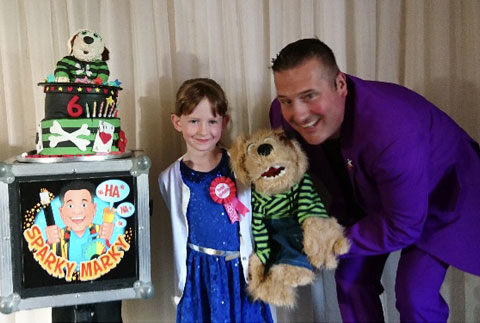 TWO HOUR "STRESS FREE" BIRTHDAY PARTY PACKAGE.
By far my most popular show!
It's fun and laughter all the way with Sparky Marky's two hour children's birthday show. There's party music to greet everyone as they arrive at the party. Then it's...
SHOWTIME!
45 minute hilarious comedy magical laughter show featuring Noodles, the magical dog and the birthday child is always the star of show! There's lots of audience participation, funny magic and lots of giggles. It's fun for everyone including the mums and dads!
Followed by: Party food break with party music. (Approximately 20 minutes).
HAPPY BIRTHDAY SONG
When all the children have finished their birthday party food, it's time to welcome back the star of the show to blow out the birthday candles as everyone sings happy birthday.
SHOWTIME
The wackiest birthday party games in town with lots of prizes that are included in the package. There's fun, laughter and silliness for everyone. To finish the show it's all aboard the birthday train as the birthday child leads the way for the biggest conga in town.
ONE HOUR MAGICAL LAUGHTER SHOW
A one hour hilarious comedy magical laughter show featuring Noodles, the magical dog and the birthday child who will be the star of the show. One hour children's birthday parties are perfect for christenings, weddings and birthday parties for children of any age.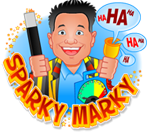 Please visit our Facebook page to see latest updates and read reviews from Sparky Marky's Children's Entertainer customers.
Sheffield - Rotherham - Barnsley - Doncaster - Wakefield - Leeds - Chesterfield - Worksop - Yorkshire - Derbyshire